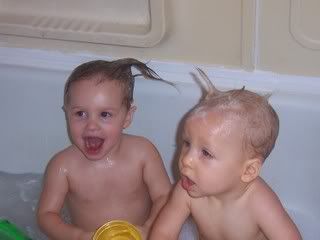 Jonathan's mommy has inspired me to blog about something funny that happened the other night in the bathtub. Hailey and Max bathe together every night and generally get along well. The other night Hailey was helping me wash Max's back because he is in that standing at all times phase, and she was naming his body parts. I was paying attention , but I was a little distracted because it had been ONE OF THOSE DAYS. You know.
"Washing Maxie's back"
Mmhmm
"Washing Maxie's shoulders"
Mmhmm
"Washing Maxie's belly and button"
MmHmm
"Washing Maxie's 'gina"
Mm...HUH!
"Mommy, Max's 'gina funny"
Yes, it is. Actually that is a penis. He is a boy, so he has a penis. You are girl, so yours is a vagina.
"Ok"
Back to washing her 'gina.
Now I don't know where you all fall on the proper names for private parts, but I have always heard that it is best to call them the correct name, so that is what I am doing. It, however, does not make it any less funny to hear a two-year-old say 'gina. She still refers to his boy parts as a 'gina, so I am waiting to hear its real name soon. I think it will be pretty funny!