Hi all! I know it has been a month since I posted, and I am OK. :) Things have been crazy and I have been lazy. Plus my camera broke and it took me awhile to get any pictures loaded into the computer. Santa will be bringing me a new camera for Christmas, so that is happy, but he will not be bringing me the pretty Coach purse that I picked out online (yes Jenn I have succumb to the branded purse monster, feel free to laugh and feel a tiny bit smug:). The reason he will not be bringing my purse is not because of the camera, but due to the speeding ticket I got on the way to preschool last week. Those of you who know about my bad luck with driving will not be surprised to hear that I also rear-ended someone, in my mom's car, on the same day as the ticket. I was convinced by the end of the day to curl up in a ball and just give up!
Other than that crazy day, things have been busy, but normal, and I love being busy, so I'm happy :) Max is walking everywhere and Hailey is potty trained completely. I am so glad that that is over and I am wondering if Max really ever needs to learn. I may just wait until he is around 4 because I just don't want to think about cleaning poo off the floor again any time soon.
Here are a couple pictures highlighting the last couple of weeks. Enjoy!
This is Max on his first swing ride on a visit to the park. Hailey hated the swings when she was his age, but he seemed to really like it.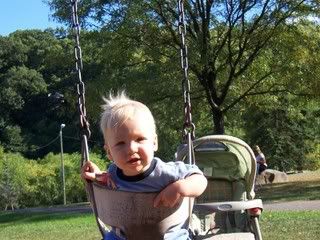 I also took a group pic of the three of us and I was surprised that it turned out pretty good.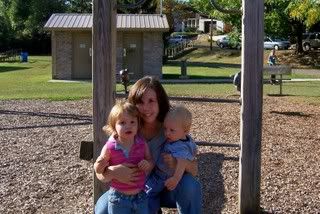 Hailey and Jonathan at the Pumpkin Festival. Hailey is just chillin' on her pumpkin and Jonathan is showing his some love.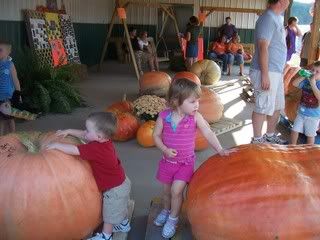 My sister-in-law came to visit and we took her and my nephew to the Clay Center. Hailey, my MIL, and Wesely loved playing with the sand and water. Can you tell my MIL hates to have her picture taken :)
Last Saturday was Spooktacular at the Clay Center, so we took the kids and it was fun. I think they will have more fun next year when Max can get out of he stroller, but he looked pretty cute as a dragon, and he stayed smiley most of the morning.
Hailey enjoyed decorating her treat bag with Cam, so I would call it a success.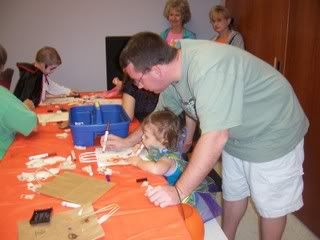 On Sunday we went to the Milton corn maze with our Sunday school class. It was fun and the kids did great, so I was pleasently surprised. The first couple clues are really hard to find, but keep going because it gets a lot easier. Hailey liked the baby pools full of corn better than the maze itself. Maybe we should get one for the porch?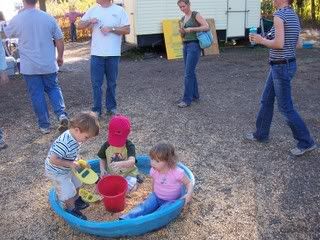 So that is my month in mini-pic review. I will try to post more often, and hopefully none of you gave up on me and stopped reading my blog!