We have only been to the pool a couple of times and it is impossible to juggle/watch my two kids and take pictures, so this one is from Memorial Day weekend when my mom came with us and it's all you are getting for now. Cam has my camera in the Xterra because I hurt it (the xterra)this weekend and he is getting it fixed. Garage doors are mean and one tried to bite my car, that is all I will say. For those of you that know me well, it was only a matter of time before I injured this vehicle. I have been driving it since December, so this accident was due :)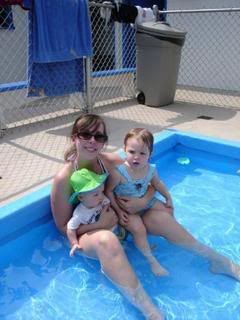 Please ignore my fat legs :(, but other than that and Max not looking at the camera, not bad.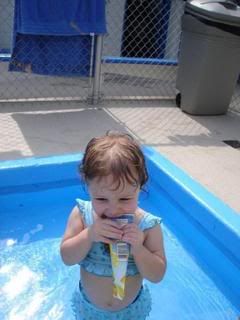 Hailey eating her "sicle". She loves them!
She is proficient at water wings now, so I will try to post some of her in them soon. It is so cute and it makes me cry to see how grown-up she is!!