As you may have read on
Jonathan's Mommy
, Max and I went to Louisville this weekend and we had so much fun. Jennifer and I have been friends for 11 years and we have been through a lot of crazy, sad, fun, and very memorable things together. Over the last three years we have been so busy having babies and being mommies that we have not been able to find time to be just Jenn and Heather. That is why I am so glad that I headed west this weekend and had some much needed girl time! We talked until 3:30am, drank some beer, and just bonded all over again. So, though she has said that I helped her in dealing with her recent tragedy, she helped me feel like ME again for the first time in a long time. THANK YOU! The trip also helped me appreciate what I have because I missed my Hailey and my hubby :)
We only took a couple of pictures, so here are two of Jonathan mowing the grass Saturday (it was unbelievable hot).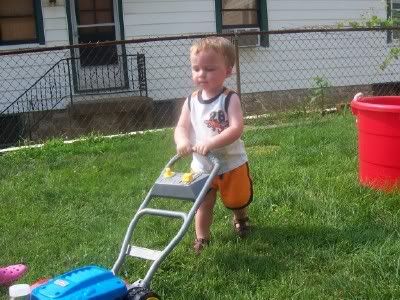 Doesn't he look so serious! He did a great job :)
Max enjoyed being outside, but you can tell he was getting hot. We probably only stayed outside for about 20 minutes!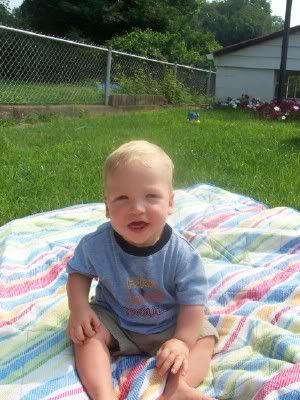 That's all for now, but let me just say that though I am saving a ton of money on diapers. holding Max over the potty everytime he has to go is kinda a pain :)
(read
Jonathan's mommy
for more info)