We had a great time on our trip to the Smokies. It was relaxing after the kids were in bed to lounge in the hot tub and the kids seem to enjoy the zoo and the aquarium. Hailey wasn't too cranky and Max was happy as long as he was in the Bjorn :) Here are some cute pics.......
Max in the brief time he spent in the stroller. He looks kinda shiny because he was just slathered with sunscreen and has drool all over his clothes. At least I got good exercise carting him around all weekend :)
They had a petting zoo and Hailey loved brushing the goats. I was amazed at how docile they were. I was a bit freaked out because Hailey is fast and Cam wasn't keeping up with her, but the goats must have been used to it because they didn't bat an eye at my little tasmanian devil.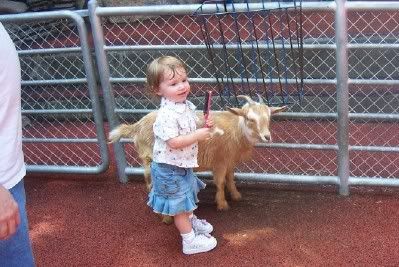 They had a pretend cow that squirted water and Hailey tried to milk it. Mommy was squirted soon after this pic was taken.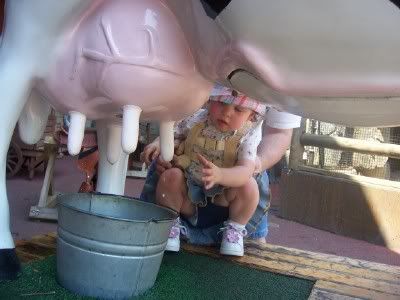 Hailey loved the aquariam the most and spent most of the time screaming "fishies" at each tank. She was fascinted by the sharks and for her good behaviour was rewarded with one from the gift shop.
Hailey was exhausted on the way home and fell asleep like this. I thought it was hilarious and snapped a picture.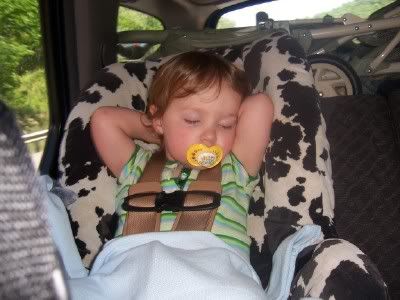 I wish I had more pics of Max but my attempts to take pics of him in the Bjorn were unsuccessful. Hope everyone had a great Mother's Day weekend and I will write something more soon. Bye!