After my issues and thoughts yesterday, I decided that I wanted to take the kids to the park and we had a blast!
Hailey rode the bouncy squirrel (last year she wouldn't go near it), and LOVED it as you can see...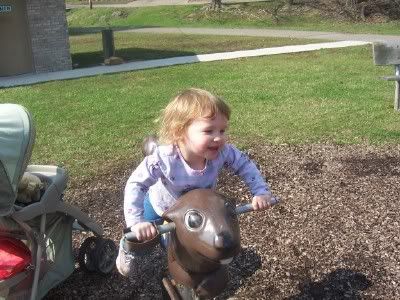 She also went down the slide and loved that as well. As you can see she is filthy, but that is what play clothes are for :)...
Nauni (my mom) came later and they had a blast going down the big slide. I swear the child has no fear, except of swings, she tried for about 2.1 seconds and decided that she still hates them...
Max had fun just chillin' with bear and Binky....
That was our day and it was so much fun. I wish we could go back today, but I have to grocery shop. Wish me luck and have a great day everyone!