I usually consider Thursdays my day off because Hailey goes to preschool for three hours in the morning, and then naps until three when we get home. Before Max was born, the three hours were completely mine. I would go to Booksamillion, get a decaf latte, and read for an hour or two. I spend the time now playing with Max and letting him have 100% of me, which I hate that he hardly ever gets. He is so sweet and loves attention, but less demanding than Hailey, though I suspect that it is purely out of necessity.
Yesterday was Green Day at school (I don't think they can officially celebrate St. Patricks Day for fear of offending people, much like good ole E. Bunny at the mall) and Hailey looked super cute, as always...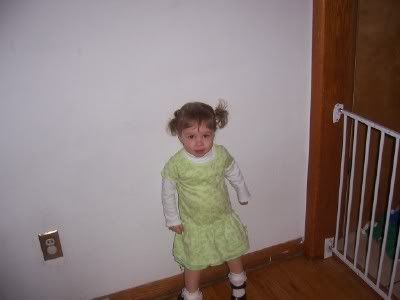 I also had to provide a green snack and after much thought I brought green grapes. I really wanted to go with Rice Krispy treats, but grapes seemed like the healthier option. One of Hailey's teachers pointed out that the RK Treats probably had less sugar, but oh well, and poo on her for ruining what I thought was a good mommy moment.
After Hailey returned from preschool, I put her down for her nap. Now, she usually doesn't really nap on Thursdays because she is so late getting down, but I make her chill in there anyway until three because she (and I) need the quiet time, well yesterday was no exception and I heard her chatting for the entire hour and 1/2, but she seemed fine. However, when I went to get her at 3, she was nude. No diaper, no clothes, and curled up in a ball. She wasn't crying and did not seem upset, she just pointed at her wet diaper and said pee-pee. She is actually refusing her nap at the moment, as well, and now I am scared that she is again naked, so I have already checked on her once. I couldn't help but laugh at her, though, and I was rather impressed that she didn't wet her bed at all.
After nap, Hailey spent the majority of the afternoon with baby in mommy's bijorn.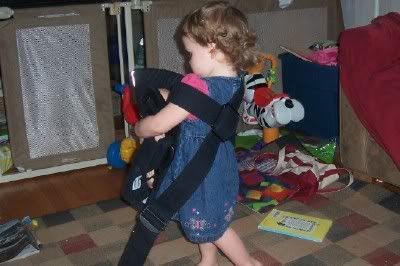 She was very funny, bouncing "baby" just like mommy and imitating my shushing sounds. After "baby" came out of the bijorn it was time for a story, and she cracked me up when she made "baby" touch all the things in her touch and feel book. Watching her grow up and the stuff that she comes up with has been so funny and amazing! I can't wait to see Max learn and grow.